You've made the decision. You need a personal trainer to show you the right techniques in your goal to become fitter, healthier and full of energy, but how do you about choosing the right fitness professional?
Here, we've listed a few different points that can help ensure you choose the right one.
Use Google to search locally
Yes, when you search for a personal trainer local to you there's always going to be quite a few results that come back, just like there were probably tons of listings in your local Yellow Pages a few years back. What's great now is that if you search for a Personal Trainer Preston, for example, then no doubt you'll see a number of pages displayed.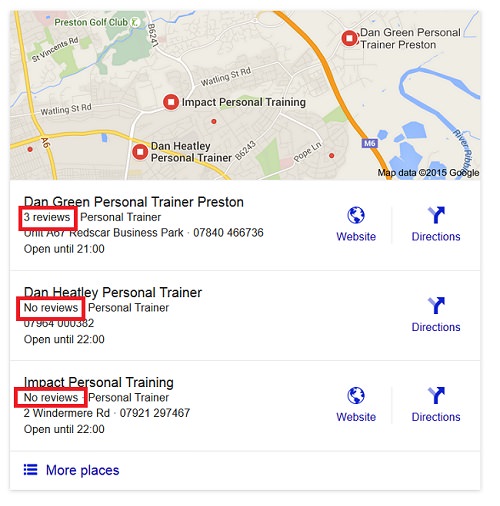 The ones to choose are those that have reviews in the first few listings that Google shows you (like in the screenshot). Clicking on the reviews (highlighted in red) are some quick ways to see how other people's experiences are with the trainer. Now, there are going to be some without reviews, and that's going to mean you move onto step 2 on Google.
Look through their website
This individual is going to be someone you're going to be working with (hopefully) for a long time (potentially  years). So, looking through their website, reading what they have to offer you, watching their videos is a step closer to understanding if they're worth going to meet and see if they're the right fit for you.
Look at the Register of Exercise Professionals
Professional fitness coaches worth anything will be registered on REPs, but most don't mention it on their website or aren't too forthcoming with that information. Now, that's not to say that they are going to be individuals who are not great trainers or professional, but that they consider it a 'norm'. Just like when you walk into a pub or restaurant you expect them to have a license to sell alcohol. (Dinner and a glass are a must on a weekend, aren't they?)
Also, ensure they have a qualification that is at least a level 3 (the level a personal trainer should be in order to train clients).
If they are a member of REPs then they're going to have to prove, initially at least, that they have a level 3 qualification and have insurance that will cover them (and you) should something happen.
Liability Insurance
This is important. As well as being qualified to actually instruct you on how to get the most from your body during fitness sessions, the person you are entrusting with your health should have insurance. Just as a dentist or a doctor has insurance when providing you with professional services, so too should a coach on health and wellness.
What should their policy cover? Well, that's up to them but I'd say at least £5,000,000 liability cover and all encompass the activities that you will be doing.
Why should you be bothered? You'll be doing new exercises and workout sessions that will put your body under strain, and you probably want to push yourself. If you injure yourself seriously and it turns out to be the trainer at fault then you'll want to see if you can claim. Why? Well, would you want to be off sick from work for months without pay because you're unable to work? No, and your trainer having the correct insurance is important for that eventuality that should never arise, but may do.
Qualifications
Whilst someone who is registered on REPs will have passed their level 3 personal trainer qualification, there are other areas that they may have a specialism in that you want to check. For example, they could be a CHEK practitioner (usually more experienced than a basic personal trainer) or have a different level 4 qualification.
You should check their qualification if they are giving you nutrition and diet advice if they're spending a lot (more than 20% of your time with them) offering advice on what you eat and different foods to consume then check.
Experienced professional
Just because they've been a professional coach in the fitness industry for 3 months doesn't mean they're not qualified or adequately experienced to train you. This particular individual might be able to help you with more motivation and personal attainment than another trainer who has always been in good health and has been a trainer for 10 years.
However, it's good to see that such a professional has been in the industry for at least a year and has some experience and references working with people who are similar to you and your background, and what you want to achieve.
Communication & 'Feel'
This is really important. You want to choose someone who you get along with and can communicate with you in a way that you'll understand and be happy with. Many people stick with the same trainer for years and that's due to the relationship that's been developed over time, but that will always start from somewhere.
When you initially meet them it's best to see if they feel right when talking with them. If they do then give them a trial.  They'll be doing the same with you. Keep conscious though, if they're only concentrating on the 'low' price you're paying them then that's not a great communication stragey.
Motivation Skills
Your trainer's going to be encouraging you to work hard to achieve your fitness goals, so it's important that they make things fun and energetic for you. If you're like most people then this is what you're thinking about choosing a personal trainer: to help you stick to and move towards a healthier body and mind.
They should push you both mentally and physically, and maybe to the point where you muscles ache the next day, but if you they pressure or make you feel bad in any way then they're not who you want to choose.
Equipment/Studio
If you want to train in your own home with a personal trainer then be prepared for a less than ideal fitness session. This is because the best equipment and area to train in is a fully-equipped fitness studio, and not someone's garage with a few dumbbells in the corner with a 'peck deck'.
It doesn't need to be expensive equipment, and it can look a little worn, but most of it should be the free-weight kind: where they will be setting up or choosing different weights based on your ability to handle them, and not adjusting a pin on one static piece of equipment that you've been using for the last half an hour.
Pricing
Ahhhhh. The question that comes to a lot of people's minds when they're looking to contract the services of a professional health and wellness coach.
You're probably asking "How much should I be paying?" to hire someone to help me get fitter (or bigger) and feel good about your body, right? Well, listed below is a quick summary about what we believe that you should be doing to look into the prices that you will be paying for a professional in the industry.
I've set out a realistic view of what types of people are out there and how much they charge, as it's important to see a broad range. Keep in mind: if the deal seems too good to be true then there might be consequences down the line.
Unqualified  –  Well, the individuals who work out of their garage and aren't qualified (or have a level 2 gym instructor qualification and, in the eyes of the industry, really aren't qualified to train you one on one) will probably charge £10 per session.
New to the Industry  –  Individuals in the early stages of their carers will probably charge around £20-30 per session/workout/hour. They're looking to develop their experience and aren't really aware of what they are worth yet. So, sometimes it's the case of you being one of their training peeps.
Medium  –  Trainers who have around 8-15 years experience will usually command pricing of £40-100 per session, but you'll usually find that their time is limited and they won't really want to work with you if you want to see them less than twice a week. Why? Well, they've got experience, they know how much motivation a lot of people need on their individual fitness journeys, and they don't want to waste both their time and yours.
High/Specialist  –  Like doctors and other specialists in their fields, as well as famous or in-demand trainers, these individuals will charge in excess of £100 per session.
There you go. Some handy tips to help you decide on which personal trainer in your local area deserves your attention and (importantly) your money.
I'd suggest you go and see them for an initial consultation and even sign up for a starter pack if you feel as though you will be happy training with them. Then decide if you want to commit long-term to working with them to achieve the body you truly desire.